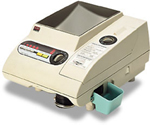 Coin Counters: CP-11 and CCR-10
The GLORY coin counters are user-friendly and count at a speed of 1,800 coins per minute. They can be set to stop at any number from 5 to 9,999. Automatic stops are factory-preset at 20/25/40/50/100/200/
1,000/2,000/4,000/5,000 for your convenience. The functional design enhances ease of operation, along with overall efficiency.
The CP-11 (picture above) is a compact coin counting machine where operation is simplified because the controls and LED display are located on the top front panel.

The CCR-10 is built to GLORY's famous standards of solid construction and unfailing durability, which sets it miles above anything else in its class. High productivity is proprietary in the CCR-10 design and the large 4,000-coin hopper includes permanent C-rings for attaching coin bags.
A moveable external display monitor is available as an option.