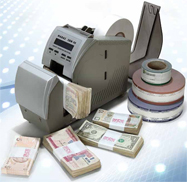 SBM-90 Banding machine

SBM-90 is an automatic banknote banding machine with integrated ink-jet graphic printer. SBM-90 is an innovative solution for banknote banding application. The system is a heavy duty operating automatic banding machine with remarkable new features and advantages.
Due to the integrated printer, banknote banding process with SBM-90 becomes very easy, quick, reliable and productive. It is no longer necessary the use of stamps on band as well as other notes such as bank- name, branch-name, operator-name and date.
SBM-90 writes all this information automatically in 4 lines on the band after finishing the banding cycle.
For transferring data lists for the 3 lines from PC, RS232/USB interface of the SBM-90 allows different options.