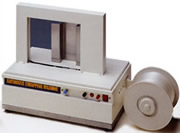 YL-303B Aautomatic Banknote strapping machine
A heavy duty
-operation speed is 2 times faster than semi- automatic strapping machine.
-Wheels make transportation convenient
-High quality of international level
-Jam-free Mechanism
-Harmful gas absorbing apparatus 
-Efficiency of working space
-Convenient strapping of banknote
 Excellent durability and precision
- Has enhanced the precision of every main parts and reduced error rate to the minimum
which happens to strapping machine during operation.
 Merits after application
- Strapping speed is about two times faster and convenient than semi-automatic strapping machine.
- By using the band of 0.3~0.4mm in thickness strapped status is clean and reduces expense of consumable.
- Built-in bad smell absorbing apparatus reduces a great deal of bad smell.